North Korea to release 'thankful' US missionary
North Korea has said it will release US missionary Robert Park, who crossed into North Korea on Christmas Eve bearing a message of 'peace and goodwill' for Kim Jong-il. North Korean officials said the young American had retracted his views of the North as a repressive place.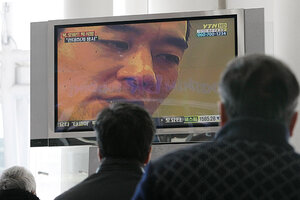 Ahn Young-joon/AP
A 28-year-old American missionary apparently is getting a reprieve from the North Koreans after having entered the North on Christmas Eve declaring that he was "bringing God's love to you" and carrying a message of "peace and goodwill" to North Korea's leader, Kim Jong-il.
Instead, according to comments attributed to Robert Park by Pyongyang's Korean Central News Agency, the North Koreans have convinced him that he was wrong in his view of the North, whose "concentration camps," Mr. Park said in an earlier interview with Reuters, were "of the same brutality as in Nazi Germany."
In the same report in which the KCNA dispatch announced that Park would be freed, he was quoted as saying that "people have been incredibly kind and generous here to me, very concerned for my physical health as never before in my life." He was, he was quoted as saying, "very thankful for their love."
Those who befriended Park in his crusade for human rights in North Korea believe the quotes are probably accurate and that North Korea would indeed let him go as announced. But they also say he had no choice but to praise the North Koreans unstintingly as the price to pay for going home.
 "There's a possibility of brainwashing after 42 days in North Korea," says Jo Sung-rae, leader of a group here called Pax Koreana that has collaborated in demonstrations and statements with Park's organization, "Freedom and Life for all North Koreans."
---
Follow Stories Like This
Get the Monitor stories you care about delivered to your inbox.