Whaling: Will Greenpeace trial in Japan put whalers on notice?
Two Greenpeace activists in Japan face up to 10 years in prison for tactics used in exposing black market sales of whale meat. Anti-whaling groups hope Monday's trial helps turn Japanese public opinion against the whale harvest.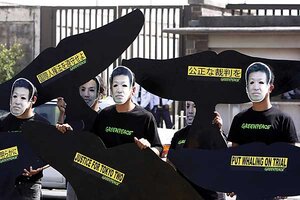 Pat Roque/AP
The menu reads like a "save the whales" activist's nightmare.
There's "gristle of the whale upper jaw" (750 yen or about $8). "Sliced raw whale heart" (750 yen). The variety platter: "five kinds of whale dainty bits" (2,800 yen).
At this elegant restaurant in Tokyo's bustling Shibuya neighborhood, some 20 customers dine on whale (kujira) as soft jazz plays. In more casual kujira joints on Tokyo's outskirts, a small, more working-class clientele does the same.
Such meals are at the heart of a perennial debate over Japanese whaling, and recently made headlines again with the collision of a ship from antiwhaling group Sea Shepherd and a Japanese "research" vessel. Defenders of the practice here say whale hunting and consumption are part of a treasured heritage. Japanese antiwhaling activists dispute that, and join foreign critics, especially in the United States and Europe, who decry whaling as barbaric.
Now, Japan's antiwhaling forces are hoping to use a trial – that begins Monday – of two Greenpeace Japan activists to sway public opinion here against the practice.
Whaling as a cultural tradition
---