Kim Jong-il birthday is all about North Korea's succession
On Kim Jong-il's birthday, the North Korean leader's attention appeared focused on grooming his youngest son, Kim Jong-un, for succession. The senior Kim did not attend his birthday bash.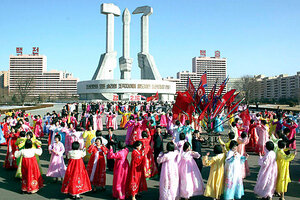 KCNA (North Korea)/Reuters
North Korea's leader Kim Jong-il turned 68 years old Tuesday in the glow of unstinting praise from his ruling inner circle – and doubts about the stability of his regime and the country's deteriorating economy.
Mr. Kim, however, did not attend a birthday bash at which top officials from the armed forces, the Workers' Party, and the government pledged allegiance to him. While recovering from a stroke, he appears to be focused on grooming his youngest son, Kim Jong-un, for power by taking him on visits to factories and military units.
"He has a clear objective of how to implement his strategy of survival," says Paik Hak-soon, senior fellow at the influential Sejong Institute here. "Everything is being carried out, including the succession issue." Despite health problems and economic setbacks, says Mr. Paik, Kim is "managing succession politics very carefully."
As critical as the issue of Mr. Kim's health is that of an economy severely depleted by growing shortages of food and supplies and a disastrous attempt two months ago to reform the near-worthless currency.
"We have no clear view about North Korea in the future," says Bae Jong-yun, who teaches inter-Korean relation at Yonsei University here. "It's militarily a strong country, but it could never be strong economically."
Trust 'to the end of this world'
---