Malaysia begins caning women for adultery
Malaysia caned three women after they were convicted for adultery under Islamic law, the first time that punishment has been handed out inside the country.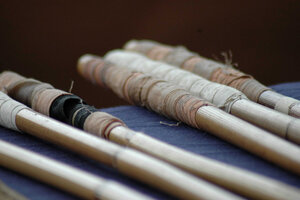 NEWSCOM
Malaysia caned three Muslim women convicted of adultery by a court of Islamic law, the first time that women in the multi-faith country have been subject to the punishment.
Last August, a similar sentence against a Muslim woman caught drinking was deferred amid complaints that shariah courts had overstepped the mark. That punishment is still pending.
Home Minister Hishamuddin Hussein said he wanted to publicize the case of the three women, who also received short jail terms, because of "too much hype" over the earlier case.
"People are saying that no woman has been caned before… today I am announcing that we have already done it," he told a press conference. He added that the women didn't suffer any cuts or bruises from the caning and had "repented" for their offenses. Four men were also convicted of "illicit sex" and sentenced to whipping.
What role for Islamic law?
Last year the case of Kartika Shukarno sparked a legal debate over the powers of Islamic courts to issue such rulings, since federal law shields women from the punishment. Shariah courts operate in parallel in Malaysia but are accused of infringing on secular rights, particularly by non-Muslims.
---