Philippines kills Abu Sayyaf most-wanted Albader Parad
Philippines troops killed Abu Sayyaf commander Albader Parad on Sunday, dealing a major blow to the Islamic militant group.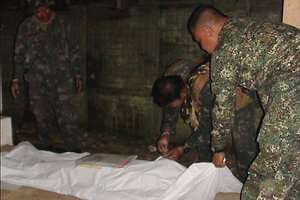 Nickee Butlangan/AP
The Philippines has claimed a significant scalp in its United States-backed war with Muslim militants, bringing it a step closer to its long-term goal of pacifying its southern flank.
Albader Parad was one of six militants that the Philippine military says it killed Sunday in a firefight on the island of Jolo. Mr. Parad led a faction of Abu Sayyaf, a banned group with historic ties to Al Qaeda that is blamed for deadly terrorist attacks and high-profile abductions since the 1990s.
Deadly kidnappings
Parad led a cell that kidnapped three foreign Red Cross workers on Jolo last January. All three were released unharmed after months in captivity. Other, less fortunate captives have been found beheaded after no ransom was paid for their release.
---