In China, kindergarten costs more than college
In Beijing, sending a child to kindergarten costs as much as $660 a month, compared with $102 a month for the country's top college.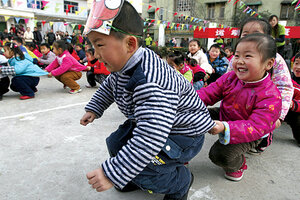 Newscom
It costs more to send your child to kindergarten in Beijing today than it does to put him or her through college. As outsiders pour into the capital looking for work, and parents try to give their offspring an ever-earlier competitive advantage, scarce preschool places are commanding record fees.
"There are just too many kids and too few kindergartens," sighs Li Jia, sales manager at a lingerie company, as she rescues her 2-year-old son's toy car from beneath the sofa.
"The private ones are too expensive, and it's really hard to get into a public one," agrees her husband, Xing Jun. "I did not expect this when my son was born."
It is almost impossible, according to parents and teachers, to find a reputable kindergarten in Beijing that charges less than 1,000 renminbi ($150) a month, which is a quarter of an average salary in the capital. Some charge five times that, putting intense strain on the budgets of even better-off young parents already burdened by heavy mortgages.
By comparison, tuition and accommodation at Peking University, the country's best, costs only about 700 renminbi ($102) a month, thanks to heavy government subsidies.
And in Japan, another nation famously focused on a child's education, two years of kindergarten on average costs 500,000 yen ($2,791 per year or $232 per month). But the price tag at elite schools can rise to 10 times that amount.
Still, the average Japanese worker makes about 10 times more than the average Chinese worker.
The Beijing education authorities are struggling to meet the rising demand, without much success. They have increased class sizes this year to 40 children, up from 35, and added classrooms for another 12,000 places, according to the Education Department of the Beijing city government. There are plans to add a further 12,000 in the near future, officials say.
---