Thailand braces for $2.2 billion Thaksin ruling
Thailand has deployed thousands of security forces ahead of a court verdict Friday on $2.2 billion in frozen assets belonging to an exiled but still-popular former Prime Minister Thaksin Shinawatra.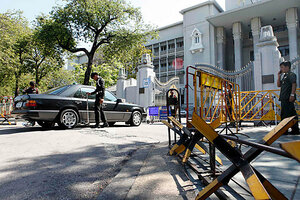 Chaiwat Subprasom/Reuters
The Thai government has mobilized thousands of security officers and issued strong warnings against rowdy protesters ahead of a much anticipated, politically sensitive court verdict.
Former Prime Minister Thaksin Shinawatra, who is exiled in Dubai but maintains a strong following in Thailand, will find out Friday if the Supreme Court will confiscate all or some of $2.2 billion of his family's money. The money was frozen by the military junta that seized power in 2006 and accused Mr. Thaksin of mass corruption.
'Judgment Day' of protests planned
Tensions have been rising for weeks over the ruling. Thaksin's "red shirt" supporters had threatened to stage mass rallies in Bangkok this week, sparking travel warnings by foreign embassies, but decided on Wednesday to push back the "Judgment Day" of street protests, as the media have termed it, until after the court ruling. They set a new date for a rally next month that is optimistically predicted to pull in 1 million people, mostly from northern parts of Thailand where Thaksin remains popular.
The government and its media outlets have also hyped the drama in the courtroom and claimed that it will be a turning point in Thai politics after four years of turbulence.
---