Why Thailand still uses discredited bomb detectors
The governments of Thailand and Britain have deemed the GT200 bomb detector unreliable, but the Thai military continues to use it to make arrests in the Muslim south.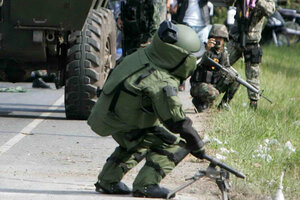 Surapan Boonthanom/Reuters
A handheld scanner that claims to detect bombs at a distance of 700 meters but has been described by British scientists as a scam continues to stir political controversy in Thailand.
The British-made GT200 scanner has been used for years by Thai troops battling a Muslim-led southern insurgency to check for explosives and locate bombs. But in a recent Thai government test, the scanner failed to detect explosives hidden in 4 out of 5 containers.
The test follows weeks of pressure by domestic critics. A BBC investigation last month into several UK-made portable bomb detectors found no scientific basis for their stated use. In response, the British government banned the export of one such device, the ADE 651 made by ATSC, to security forces in Iraq and Afghanistan. Britain has warned foreign governments that similar detectors, including the GT200, are unreliable.
(Read here how the Iraqi government spent $850 million on scanners manufactured for about $250 apiece.)
---