Australian town confronts hidden costs of mining boom
The Australian mining boom has put food on the table for many communities like Mount Isa. But residents there are now suing the local mine's owner and the government after tests showed their children had high levels of lead in their blood.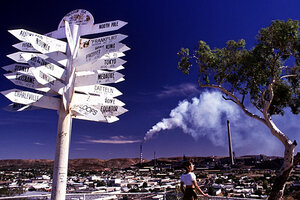 Newscom/File
Daphne Hare moved to a small Queensland mining community, Mount Isa, in 2002, hoping for a share of the town's prosperity. She found a job in a busy hotel, made friends, and settled down. But her infant daughter, Stella, frequently fell ill.
In 2008, after concerns were raised about the nearby lead mine, health officials offered a free blood-screening program for under-fives. Ms. Hare was horrified to discover that Stella had a blood lead reading well above World Health Organization (WHO) guidelines. And she was not alone: more than 1 in 10 children had potentially unsafe levels of the heavy metal in their systems.
Now Mount Isa is grappling with a dilemma facing many Australian communities: how to weigh the economic benefits of mining against possible adverse health effects. One of the world's leading minerals exporters, the country is enjoying a prolonged mining boom that has underpinned the national economy. But some locals, subjected to lead, mercury, and other toxic emissions, believe they may be paying the price.
In Mount Isa, a mine and smelter that are Australia's largest emitters of lead are situated next to a population of 23,000. The mine's owner, the Anglo-Swiss giant Xstrata, suggests that exposed outcrops of naturally mineralized bedrock – rather than its operations – are the problem. That stance is backed by the Queensland government.
---