Haiti, Chile, now Taiwan: earthquake escalation?
The 6.4-magnitude Taiwan earthquake that hit on Thursday – on the heels of quakes in Haiti and Chile – raised concern of an accelerating trend. But the statistics say otherwise.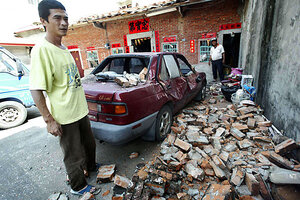 AP
The 6.4-magnitude Taiwan earthquake that hit Thursday on the heels of massive quakes in Haiti and Chile, has some worrying about a spike in seismic activity.
But there's no geological connection between those quakes, and nothing unusual in the number of recent big quakes, says Kuo Kai-wen, director of the Seismology Center of Taiwan's Central Weather Bureau.
"Because Haiti just happened, everyone's paying more attention to earthquakes," says Mr. Kuo. "But the activity is normal – it's not so scary."
IN PICTURES: Images from the Taiwan earthquake
About 64 injuries have been reported from Taiwan's quake, which hit about 250 miles south of Taipei at 8:18 am local time and was followed by several aftershocks. But it triggered power outages, halted high-speed rail service, and caused panic as people ran out of schools and homes.
---