Indonesia says killed leading militant Dulmatin
Indonesia said Wednesday that it had killed leading Islamist militant Dulmatin, who helped organize the murder of 202 people on Bali in 2002.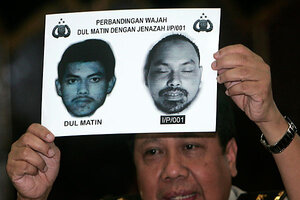 Tatan Syuflana/AP
Indonesian police said Wednesday that they had killed Dulmatin, one of Southeast Asia's most-wanted militants, during a raid outside Jakarta. Mr. Dulmatin's recent activities sheds light on how Indonesia's militant Islamists are splintering and adapting, experts say.
Dulmatin and two other men were killed during a raid that has been linked to a group of alleged militants captured last month in Aceh. Sidney Jones, a leading authority on Indonesian militant groups at the International Crisis Group in Jakarta, says Dulmatin was part of a group of men who have broken away from a range of militant organizations out of frustration at a lack of militant action by those groups.
Dulmatin is believed to have helped plot and execute the 2002 Bali nightclub bombing that killed 202 people, mostly foreigners. His death comes six months after members of Indonesia's US-trained counterterrorism unit killed Noordin Top, the leader of a splinter group of the al-Qaeda-linked Jemaah Islamiyah.
---