Thailand protesters warn of escalating street rallies
Tens of thousands of red-shirted Thailand protesters filled main avenues in Bangkok Sunday as they called for the resignation of Prime Minister Abhisit Vejjajiva.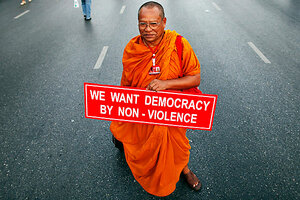 Damir Sagolj/Reuters
Tens of thousands of Thailand protesters gathered here Sunday to dance, clap, and call noisily on Prime Minister Abhisit Vejjajiva to step down or face escalating protests in the coming days.
The rally was among the biggest in Thailand in four years of political turmoil, much of it over the fate of Thaksin Shinawatra, a rich businessman turned prime minister who was ousted in a 2006 coup. Many protesters want Mr. Thaksin, who lives in Dubai and was convicted last month of corruption while in office, to return to power, though others insist that their broader fight is to restore justice and democracy in Thailand.
"I follow the news and all I see are double standards," says Pa-Aod, a farmer from the northeast, who had tucked her gray hair into a red bandana.
As evening fell, the crowd stretched the length of a four-lane avenue, with official estimates in the range of 50-100,000, though organizers claimed that as many as 300,000 showed up. The atmosphere was festive among the "red shirts," many of whom had arrived the previous day in bus convoys from Thailand's rural provinces.
Can violence be prevented?
Rally organizers say they are committed to nonviolent change and there was no sign of tension on the streets. Security forces, which have been granted sweeping powers to handle the demonstrations, kept a low profile, with small units unarmed police and soldiers staying on the fringes of the rally.
---