Malaysia opposition embattled by leader Anwar Ibrahim's sodomy trial
Malaysia's opposition coalition is struggling to stay united as their popular leader Anwar Ibrahim focuses on his sodomy trial. Already four lawmakers have defected.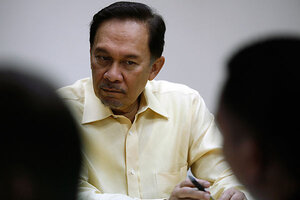 Bazuki Muhammad/Reuters
Two years after its strongest-ever electoral showing, Malaysia's opposition is beset by infighting, and the ongoing trial of its leader, former Prime Minister Anwar Ibrahim.
Over the past month, four lawmakers have left the opposition, shaving its bloc in the 222-seat parliament and raising doubts over its cohesiveness. Analysts say further defections are possible, as the ruling coalition seeks to regain its two-thirds majority in parliament, the minimum threshold for changing the Constitution.
Mr. Anwar, who is accused of sodomizing a young aide, a charge he denies, heads an unlikely coalition of ideological, racial, and social opposites. His popularity and charisma are widely seen as the glue that holds it together, and a criminal conviction would be a major blow.
The trial, a virtual rerun of a controversial sodomy case in 1998 that led to a six-year imprisonment, is due to resume on March 25. If found guilty, Anwar could face another prison sentence and would be unable to lead the opposition and his People's Justice Party, known as Keadilian.
Keadilian members say that Anwar hasn't anointed a successor to run it in his absence, as his wife, a former lawmaker, did during his last jail term. A party executive, who requested anonymity, says Anwar refuses even to discuss the issue properly and is distracted by the trial.
Cracks in the opposition
A conviction runs the risk of inflaming Malaysian politics. In 1998, tens of thousands took to the street over the trial, which was widely seen as orchestrated by former Prime Minister Mahathir Mohamad to see off a challenge from Anwar, his handpicked deputy. So far, only small crowds have protested the latest trial, which Anwar calls a political conspiracy.
---