Indonesia disappointed after Barack Obama delays trip
Indonesians had already hung welcome home banners when US President Barack Obama delayed his visit to Jakarta. While disappointing to many, some hope it will allow him to stay longer in Indonesia in June.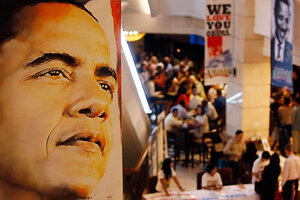 Crack Palinggi/Reuters
Welcome home banners for Barack Obama adorned the marbled hall of Jakarta's Bellagio Mall, where officials and distant family of the US president held a party this week to celebrate his upcoming visit to Indonesia.
Their hopes faded when President Obama delayed his visit until June so he can focus on a health care bill currently hung up in Congress.
White House spokesman Robert Gibbs said Thursday that America's international alliances are critical to its "security and economic progress" and dismissed concerns that the delay sent a negative message to Indonesia, where Obama spent part of his childhood living in the Jakarta neighborhood of Menteng.
Indonesian officials say they are not offended. "We are very much aware of the ongoing discussion in the Congress concerning the health care bill, and we are very sympathetic with the situation President Obama is facing," Foreign Ministry spokesman Teuku Faizasyah said.
---