Labor reforms? Japan limits on part-timers please no one.
In Japan, labor reforms approved last Friday to protect temporary workers – now about one-third of the workforce – were met with criticism on both sides. Firms say they need a flexible workforce, while laborers say too many loopholes remain.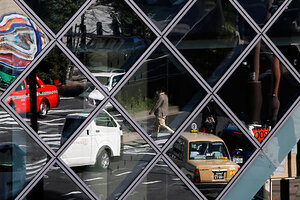 Toru Hanai/Reuters
Japan's center-left government approved a bill limiting the hiring of temporary workers Friday, in a bid to reverse years of labor deregulation that it says went too far in favoring big business at the expense of workers.
But the proposals have drawn fire from all sides. Businesses and some economists say firms need flexible labor to remain lean amid fierce global competition. Meanwhile, some workers and small unions argue that the reforms don't go far enough.
The cool reception reflects growing disillusionment with the Democratic Party of Japan (DPJ), which took power last year with lofty ambitions but is now being dealt a reality check on some of its pet policies.
It's been forced to retreat on several issues – scaling back a populist pledge to slash highway tolls, for example, and cutting in half its proposed child-rearing subsidy, from 26,000 to 13,000 yen ($145), at least in the first year of implementation.
Meanwhile, the DPJ cabinet's approval ratings have plunged to 34 percent, from around 70 percent when it took power, according to the latest poll from the Japanese daily Asahi Shimbun.
The labor bill is just the latest example of the DPJ's struggle to balance competing priorities while playing complex coalition politics.
"People are getting more and more frustrated about increasing inequality, and the DPJ has to take care of this national frustration," says Koji Murata, a professor at Doshisha University in Kyoto, about the labor bill.
---