South Korea pushes to recycle nuclear power plant fuel
As a growing nuclear power plant builder and exporter, South Korea wants to reprocess nuclear fuel. That's counter to a US deal.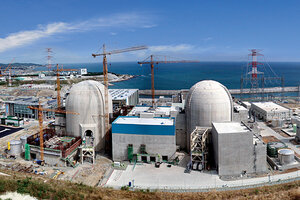 AFP/Newscom/File
Through thick glass windows beneath 20 feet of water lurk canisters containing spent nuclear fuel rods, stored after having powered one of the four reactors at this nuclear energy site on South Korea's east coast, 100 miles southeast of Seoul.
"Currently, we have space for spent fuel rods until 2016," says Park Chan-sung, an official at the site, the newest of four nuclear power plant complexes with 20 reactors operating under the aegis of the state-owned Korea Hydro and Nuclear Power Co. "Plans for after 2016 are under discussion."
The issue of what to do with the fuel rods is reaching critical mass. South Korea is a rising manufacturer of nuclear reactors and exporter of nuclear power plants.
Now, it wants to reprocess rather than store its spent fuel rods – despite fears of potential proliferation and questions about a ban on reprocessing imposed by its nuclear cooperation agreement with the United States. The debate is critical not only for South Korea's nuclear energy program but also for efforts to get North Korea to abandon its nuclear weapons. North Korea's leader, Kim Jong-il, talks about "denuclearization" of the Korean Peninsula, suggesting North Korea will persist in its program as long as South Korea and the US also have nuclear capabilities.
---