Japan win on bluefin tuna showed deft hand at CITES endangered species meeting
The experienced and large delegation from Japan showed a deft hand in its win against a bluefin tuna ban and other measures at the 175-nation CITES meeting on endangered species in Qatar.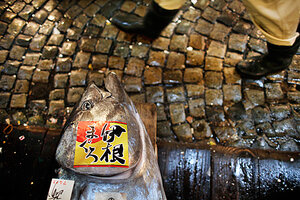 David Guttenfelder/AP
Using backroom horse-trading skills honed by years of negotiations and maneuvering at the International Whaling Commission (IWC), the battle-hardened officials of Japan's Fisheries Agency were able to push through their agenda at the Convention on Trade in Endangered Species of Wild Fauna and Flora (CITES) in Doha – leaving their less experienced European and American counterparts in their wake.
The 30-strong Japanese delegation won vote after vote – surprising many at the 175-nation confab with their margins of victory. And with the proposal to extend the limited protection given to the porbeagle shark defeated at the final session on March 25, the Japanese and their allies were 7 and 0 in their campaign against the inclusion of a variety of marine species in CITES.
"We were very shocked at just how quickly such big decisions were made, and with the big numbers they managed to carry," says Wakao Hanaoka, a spokesperson for Greenpeace Japan in Tokyo.
IN PICTURES: CITES conference fails to protect any threatened marine species
Japanese officials refute any suggestions of hardball lobbying or "vote buying," though Japan has been accused of using such tactics at IWC meetings for years in defense of its whaling programs. "The Japanese government has in the past used overseas aid as a weapon to get its way at the IWC," claims Mr. Hanaoka.
---