South Korea's Cheonan ship sinking mystery: A North Korea mine?
North Korea may have planted an underwater mine to make South Korea's Cheonan ship sink last Friday, the defense minister said. Or an old mine may have been left from the Korean war.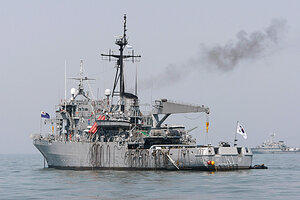 Ahn Young-joon/AP
South Korean defense officials put forth one explanation Monday for why a 1,200-ton warship snapped in half last Friday: an underwater mine.
Whether the mine had been left over from the Korean war, or was placed in the ship's path by North Korea, remains a mystery.
South Korea has not ruled out the possibility that North Korea played a role in the explosion that sank the Cheonan, a South Korean Navy corvette, near the disputed Western sea border between the two countries.
Window for rescue closing
It says it is focusing first on rescue efforts. On Monday authorities continued trying to find 46 sailors believed trapped in the ship's hull. Local television stations showed footage of the sailors' tearful families, waiting for news.
"Finding out what happened is actually a second concern at this moment," says Kim Tae-woo, a veteran analyst at the Korea Institute for Defense Analyses (KIDA). After any surviving sailors are rescued, "then I think there will be some controversy and further debate over responsibility."
---