Thai PM hesitant to enforce Bangkok state of emergency on Red Shirts
Prime Minister Abhisit Vejjajiva has exercised few powers at his disposal since declaring a Bangkok state of emergency Wednesday. Leaders of the antigovernment Red Shirts say the Thai military is reluctant to carry out Vejjajiva's orders.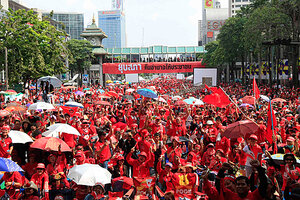 Kim Kyung-Hoon/Reuters
Antigovernment "Red Shirt" demonstrators defied state of emergency rules Friday in Bangkok, angering those who want the Thai government to take a tougher approach to end a four-week protest.
While the state of emergency that Prime Minister Abhisit declared on Wednesday gave him sweeping powers to detain protesters, censor news media, and restrict movements in and around Bangkok, few of those powers have been put into effect, leaving the streets in the hands of the protesters and their roving convoys of cars and motorbikes.
"I believe that civilian control has completely broken down. Abhisit is just going through the motions," says Sean Boonpracong, a spokesman for the Red Shirts, who draw on rural and working-class support.
IN PICTURES: Top 10 unusual protests
In the latest incident today, thousands of red-shirted protesters forced their way into the compound of a satellite broadcaster which the government had ordered shut down Thursday. Police and soldiers fired water cannons and tear gas but failed to stop the unarmed intruders and beat a humiliating retreat. The TV channel later resumed service.
---