On nuclear summit sidelines, Obama and Hu may discuss China's currency
Presidents Barack Obama and Hu Jintao will meet Monday afternoon amid a global nuclear summit in Washington, where China's currency has becoming a growing sore point.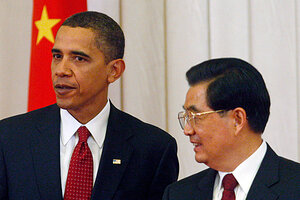 Jim Young/Reuters/File
Though they are meeting in Washington on Monday for a nuclear summit, in their private talks President Obama and his Chinese counterpart, Hu Jintao, are likely to focus on their countries' trade imbalance amid economic recovery.
Experts in China say that, after months of tension between the two nations, Beijing may soon raise the value of its currency, if only slightly – not necessarily in response to US pressure but also for the sake of its own economy.
Americans, in the run-up to midterm elections, are increasingly demanding such a move as a way to reduce China's trade surplus with the US, which in March reached $9.87 billion.
Beijing-based economist Michael Pettis, an American, says that for China, a rise in the yuan – which he thinks is likely – is just a first step to help reduce the trade imbalance.
"For China, if you produce more than you consume, you must export the balance," said Mr. Pettis, who teaches at Peking University, noting that because US demand is down, "China must, over the next six to eight years, raise the value of its currency, raise wages, and raise interest rates," so that Chinese consumers earn more on savings and feel more comfortable spending on imported goods, among other things.
A stronger yuan might cause some job losses and possible unrest, but Beijing is likely to agree to a gradual appreciation because "this is about taking the long-term view" on moves toward a market economy, says Shen Dingli, deputy director of the Center of American Studies at Fudan University in Shanghai.
---