Amid family pressures, gays in China turn to marriages of convenience
In China, where homosexuality remains taboo, many gays enter marriages of convenience to satisfy family pressure to wed and have children. While they act like a couple in front of their families, many don't live together.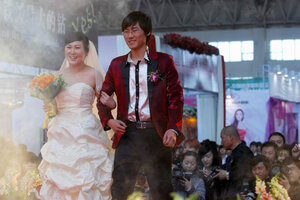 Wang Song / Newscom
Xiaojian was on his 10th blind date, and it wasn't going well. A few minutes in, he already found himself rejected. The reason: He was too short.
Xiaojian isn't even looking for love. As a gay man, he only wants to form a xingshi marriage, or marriage of convenience, to ease the pressure from his family to settle down.
China decriminalized homosexuality in 1997, and in 2001 removed it from the official list of mental disorders. But the social stigma against gays remains deep, and in a society where family plays an important role, it is intensely reinforced by parents pressuring their children to get married and carry on the family line.
Zhang Beichuan, a professor at Qingdao University who has studied homosexuality in China since the 1980s, estimates that the country has about 30 million gay men and women between the ages of 15 and 60.
Of them, 80 to 90 percent "eventually get married," he says.
In China, parents often play a big part in the life decisions of their children well into adulthood. Disobeying parents – for example, by refusing to get married and so continue the family line – is considered deeply unfilial.
Many gay people, then, are turning to the xingshi marriage: A gay man and a lesbian (or, sometimes, a heterosexual woman) will marry one another to deflect the nagging from their parents and relatives. They meet through friends or over the Internet. After marrying, they won't necessarily live with one another, and many maintain their own same-gender partners. But in front of their families they act like real couples.
---