South Korea raises sunken warship amid questions about retaliation
The South Korea raised the sunken warship Cheonan Thursday. Across South Korea, the view is growing that North Korea is responsible for a blast that killed 46 sailors.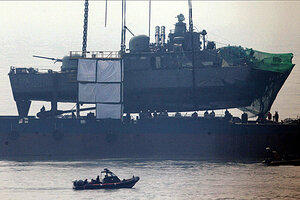 Lim Hun-jung/Yonhap/Reuters
The South Korean warship that was torn apart by an explosion nearly three weeks ago was hoisted to the surface Thursday amid growing suspicions that North Korea was responsible. The blast left 46 sailors dead in the aft of the ship, while 58 escaped the much larger forward portion, which stayed afloat long enough for them to don safety gear and leap into the cold waters of the West Sea, also known as the Yellow Sea.
Officials said publicly that they're waiting for the findings of an international team as pressure mounts for the government to state just what happened, who did it, and why.
"We do not know exactly if it was a torpedo or a mine," says Song Tae Sung, president of the Sejong Institute, an influential think tank with close ties to the government. "We say there is some connection with North Korea," he continued, reflecting the widely held view of Koreans scrutinizing daily and hourly reports of the episode.
TV images of the raising of the ship reveal little beyond a gaping hole in the side caused by a gigantic blast that ripped it open so wide that the stern sank in less than one minute. The hole appears to be the sort that could have been blasted by a torpedo or a floating mine, but officials are not saying so.
While the government resists pointing the finger at North Korea, analysts see the sinking of the Cheonan, launched in 1989, as a bargaining ploy and an act of revenge.
---