Official and grassroots relief groups rally in wake of China earthquake
The official death toll from 6.9-magnitude earthquake in China rose above 1,100 Friday. Thousands of Tibetan Buddhist monks joined Chinese soldiers to distribute food and clothes in the devastated town of Jiegu.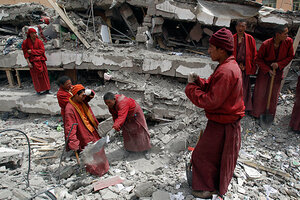 Andy Wong/AP
Chinese, Tibetan, and international aid groups rallied in both official and grass-roots relief efforts Friday to help the 100,000 people left homeless in western China by a devastating earthquake.
The official death toll from the quake that leveled the high mountain town of Jiegu in Qinghai Province rose to 1,194, with more than 11,000 people seriously injured, according to the official Xinhua news agency.
Survivors of the quake, which struck Yushu County just after dawn on Wednesday, spent a second night outdoors in below-freezing temperatures at 13,000 feet.
IN PICTURES: Earthquake in China's Qinghai Province
The Yushu quake was recorded at 6.9 on the Richter scale by the US Geological Survey, less powerful than the 8.0 seismic event that rocked neighboring Sichuan Province in May 2008, killing 90,000 people in and around Wenchuan County.
On Friday, thousands of Tibetan Buddhist monks wearing traditional crimson robes joined Chinese soldiers to distribute food and clothes in Jiegu. Medical rescue teams gathered in a makeshift center to treat the nearly 1,000 people who were seriously injured.
---