Army deploys against Thailand's 'red shirt' protesters
Thailand's 'red shirt' protesters canceled a march Monday as the Army fanned out to block them. But they vowed to continue their demonstration, now at five weeks, until Prime Minsiter Abhisit steps down and calls elections.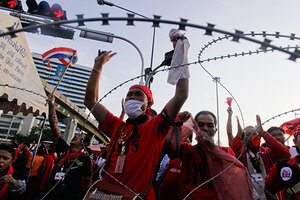 David Longstreath/AP
Combat troops deployed Monday in Bangkok's financial district to block a planned march by Thailand's "red shirt" protesters who have camped out in the capital for five straight weeks.
The added pressure came as an opposing "yellow shirt" group threatened a massive counterdemonstration next week if the protests continued.
Protest leaders canceled their march but vowed to continue their disruptive campaign to force Prime Minister Abhisit Vejjajiva to dissolve parliament and hold elections.
The standoff erupted into violence on April 10 that left at least 25 people dead and several hundred injured at a rally site that has since been abandoned in favor of a downtown shopping area.
The soldiers who took up positions near the consolidated rally site were the first major deployment since the April 10 bloodshed, which Mr. Abhisit blamed on "terrorists" among the red-shirted protesters. But it's unclear if it marks the start of a fresh crackdown or a defensive crouch against the ebullient Red shirts.
'Yellow shirts' fight back
A day earlier, the yellow shirts threatened to counterprotest in seven days if the government failed to end the protests. The royalist People's Alliance for Democracy, which paralyzed the capital during marathon 2008 protests that included airport seizures, sees the red shirts as a front for fugitive former Prime Minister Thaksin Shinawatra.
---