Hu visit aims to boost confidence in China quake relief
In his visit to China's quake zone Sunday, President Hu Jintao hugged children and promised new schools and homes.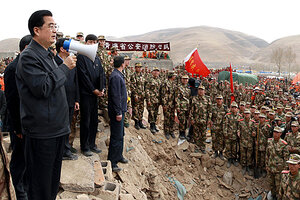 Xinhua/AP
China's government moved to assure the nation it was in control of rescue and rebuilding efforts in the remote western earthquake zone that is home to ethnic Tibetans who sometimes bristle at Beijing's rule.
Pictures and video of President Hu Jintao hugging a displaced Tibetan girl in Jiegu town in Yushu on Sunday led the state-run media on Monday alongside promises of government relief after the 6.9-magnitude quake.
"There will be new schools! There will be new homes!" Mr. Hu wrote in chalk in Chinese on a blackboard in a makeshift classroom in a tent of orphaned students, Xinhua said. He had cut short a trip to Latin America to visit the quake zone.
Touring a makeshift medical center, Hu told an injured Tibetan man: "The Party and the government care about all the victims of the quake. Doctors will give you meticulous treatment. The party and the government will help with a new home. You should have confidence and recover," Xinhua reported.
IN PICTURES: Earthquake in China's Qinghai province
The death toll from Wednesday's quake climbed to 1,944, with another 216 listed as still missing in Yushu county in Qinghai, the province where the exiled Tibetan leader, the Dalai Lama, was born.
Many of the Tibetan quake victims in and around the mountain town of Jiegu, population roughly 100,000, needed help communicating with the thousands of Chinese rescuers pouring in by plane and truck.
---