Can foreign mediators defuse Thailand's red shirt protests?
Thailand's red shirt protesters on Thursday asked the European Union to send monitors to prevent a violent crackdown, one day after they clashed again with soldiers. Nobel peace laureate and East Timor President Jose Ramos-Horta, whose country sought foreign aid against political violence, offers advice on outside mediators.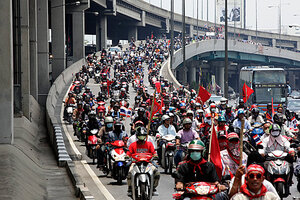 Sukree Sukplang/Reuters
Anti-government red-shirt demonstrators appealed Thursday to the European Union to send monitors to Bangkok to prevent a violent crackdown on their fortified protest site.
The proposal, in the form of a letter handed to an EU diplomat, was swiftly denounced by Thailand's foreign minister, Kasit Piromya. "There is no need for international intervention at this point in time," he told a press conference in Jakarta, according to Agence France Presse.
While Thailand insists that its deepening crisis is an internal affair, some Western diplomats are quietly discussing the idea of outside mediation to bring together political rivals. Such an approach is certain to raise nationalist hackles, though, amid continued saber-rattling by the military, which clashed again Wednesday with roving protesters.
In an interview, East Timorese President Jose Ramos-Horta, whose young democracy has relied heavily on international support to tackle political violence, gave his support to foreign mediation. But he warned that it would be hard to find someone who can step into the complex situation.
---