As Shanghai Expo opens, construction workers still pounding nails and paving plazas
The Shanghai Expo – the largest World's Fair ever – opens this weekend. While many countries will have their pavilions ready, others have struggled because of Chinese insistence on using approved contractors – and the inexperience of outside managers in working with Chinese builders.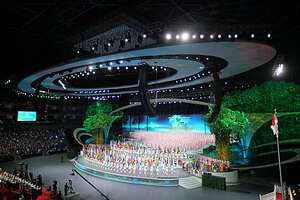 Eugene Hoshiko/AP
A day before China's Shanghai World Expo was due to open its gate to an estimated 700,000 visitors on Saturday, construction workers were still feverishly hammering, welding, painting, and paving against a seemingly impossible deadline.

Many were putting the finishing touches to national pavilions almost ready to receive the public. Others, though, were clearly too far behind schedule to make opening on Saturday a realistic prospect. The United States appeared ready – but the Indonesians looked as if they were struggling. The former Yugolsav republic of Macedonia did not even have its name sign up.

That so much remained to be done on the eve of the Expo, eight years after Shanghai was given the right to host it, was apparently the result of a mixture of factors. They ranged from the sheer scale of the enterprise – the largest World's Fair ever held – to heavyhanded interference by the Chinese authorities, according to foreigners participating in the show and local analysts.
IN PICTURES: Shanghai World Expo 2010
At bottom, complained the manager of one pavilion who asked not to be identified, was the Chinese organizers' insistence that only approved contractors on a city government list would be allowed to work on the site.
---