The fuel behind Thailand red-shirt protesters' fire
Thailand's red-shirt protesters accepted a government reconciliation roadmap on Tuesday. But they refused to end their demonstrations, which have left 27 people dead.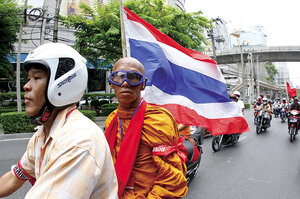 Eric Gaillard/Reuters
Antigovernment "red shirt" protesters have laid siege to key parts of Bangkok since March 12, the latest unrest in nearly five years of turmoil that have shaken Thailand's political foundations. On Tuesday they accepted the government's roadmap for reconciliation – which could bring elections by November – but said they want additional concessions and will not yet abandon their sit-ins. Commentators have warned of civil war if no political compromise is reached, in a country whose modern history is strewn with coups, countercoups, and half-baked constitutions.
Who are red shirts, yellow shirts?
The red shirts, or the United Front for Democracy against Dictatorship (UDD), emerged after a 2006 coup to oppose the junta. They are supported by former Prime Minister Thaksin Shinawatra, who lives in exile and has been convicted of corruption.
IN PICTURES: Top 10 unusual protests
UDD backers are mostly rural and working-class. Many want to see the return of Mr. Thaksin and his populist economic policies. They reject current Prime Minister Abhisit Vejjajiva as illegitimate and unelected.
---