Kim Jong-il is in China? We have no information on that.
The Monitor's Beijing bureau chief hit a wall of official secrecy regarding the China visit of North Korean leader Kim Jong-il. It was only the beginning of a tough day of reporting.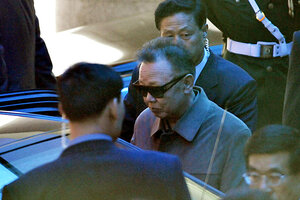 Kyodo News/AP
Casting around today for a suitable subject on which to blog, I thought I might bring you up to date on the mystery visit that Kim Jong-il, North Korea's "Dear Leader" is currently making to China.
But "mystery" is the key word. So intense is Mr. Kim's obsession with secrecy, and so willing is the Chinese government to humor him, that the Foreign Ministry spokeswoman told reporters yesterday with a straight face that she knew nothing about any such visit.
The South Korean news agency Yonhap, always well plugged in to sources inside South Korea's intelligence services, reported the Kim visited an industrial park in northeastern China and the port city of Tianjin and was on his way to Beijing. But what exactly he is up to remains a matter of speculation.
IN PICTURES: Shanghai World Expo 2010 at night
Not much to report, then, beyond my last blog on the subject on Monday. So I thought I would instead explore the reasons behind the disappointing visitor numbers at the Shanghai World Expo, which has been drawing only half the expected crowds since it opened Saturday.
---