Philippines election results pour in with efficiency that surprises many
Philippines election results are 90 percent in after just two days, the result of a computerized system that yielded a much smoother turnaround than in previous polls. But other problems surfaced, including vote-buying and some violence.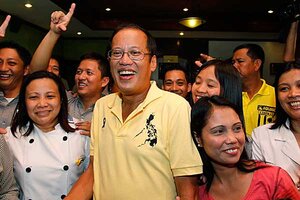 Erik de Castro/Reuters
Filipino voters were accustoming themselves to a novel experience Wednesday: finding out the results of elections they had voted in only two days before.
With most of the votes counted, Filipinos know already that opposition Senator Benigno "Noynoy" Aquino is poised to become president. Many also knew who their new representatives in congress and in town and provincial councils will be.
Mr. Aquino, who with 90 percent of the vote counted held about 40 percent of votes, has even begun assembling his cabinet.
The novelty is due to a computerized vote-counting system, whose effectiveness surprised many. It replaced a pen-and-paper system that often took weeks to produce results, and allowed plenty of time and opportunity for cheating – a bane of Philippine elections.
Little faith in voting machines
Monday's elections were uncommonly tense, because skeptics said the computerized system would not work. Some opposition figures even said it was designed to fail, to allow the outgoing president, Gloria Arroyo, cling to power.
Doubts increased just a week before, when the Commission on Elections (Comelec) discovered glitches that meant the memory cards in vote-counting machines in the 70,000 polling precincts around the country had to be replaced. As Comelec rushed to finish the job, some candidates called for the postponement of the elections.
But on polling day, almost everything was ready, according to Comelec. Voters showed up in droves, some of them curious about the new system. Turnout reached 75 percent, Comelec said.
Limited malfunctions
Some people had trouble coping with complicated new ballot forms that they had to feed into the counting machines.
Some machines malfunctioned – Mr. Aquino himself had to wait several hours to vote – but only about 400 of more than 76,000 deployed, Comelec said.
---