Thailand protests: Red shirts defy deadline to disperse
Amid intensifying Thailand protests, antigovernment 'red shirt' demonstrators ignored a deadline Monday to leave their fortified downtown Bangkok camp, now ringed by troops.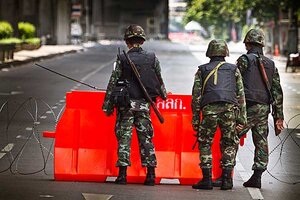 David Longstreath/AP
Thailand's red shirt protesters defied a government deadline Monday to abandon an anarchic rally ringed by heavily armed security forces as the toll rose from five days of street fighting.
Government officials had said that protesters who stayed behind would face criminal charges. The government says armed "terrorists" are in the fortified camp and has called on protesters to disband their rally, now into its third month in the beleaguered capital. On the protest perimeter, barricades of burning tires sent up plumes of acrid black smoke.
Protest leaders say they want a cease-fire and have urged the government to restrain the troops. But a government spokesman said Monday that the rally and the violence must end before negotiations could resume. The impasse has raised fears that troops may shoot their way into the site, though it wasn't immediately clear if the deadline would be the trigger.
Weng Tojirakarn, a red-shirt leader, says talks are still possible but accused troops of inflaming the situation by shooting unarmed protesters. "You must not ask soldiers to shoot like this," he says, holding a newspaper with a picture of Army snipers.
Sanctuary at a temple
At a Buddhist temple inside the rally site, hundreds of red shirts lined up Monday to receive food and medicines from the Thai Red Cross. The temple has offered sanctuary to women, children, and the elderly, and some have bedded down in the leafy temple grounds.
But a government offer to evacuate people from the site ahead of Monday's deadline went largely ignored. Protesters say they won't quit, even though the military may be preparing to retake the area by force. Some said they would stay in the temple if the fighting intensifies. Others said they didn't trust the government's offer and feared retribution for their actions.
Mr. Weng says protesters are free to leave. "I tell everyone you must make your decision. If you think you want to go home, please go."
Key protester dies
---