For study abroad, more Japanese prefer Chinese university over US one
Growing numbers or Japanese who study abroad see their future linked to a Chinese university. But US educators are fighting back, citing better schools and the ability to learn all-important English.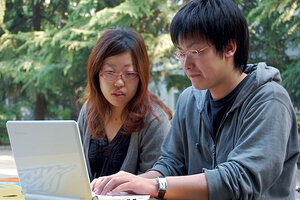 Peter Ford/The Christian Science Monitor
Asako Sakane does not want to be rude, but she does not think the future belongs to America. So the Japanese junior has come to China to study instead.
"My teacher in high school told me China is developing so fast that it will overtake America, Europe, and Japan one day," she explains. "China and Japan are neighbors, and I think it is more important for me to study Chinese than English."
Ms. Sakane is emblematic of a trend worrying US educators. As the number of Japanese students at US universities drops year by year, the number coming to Beijing and other major Chinese cities is growing by leaps and bounds.
"There is a big-picture shift under way," says David Satterwhite, administrator of the Fulbright scholarship program in Tokyo. "It's a significant trend."
In 1994, 78 percent of Japanese choosing a foreign school went to a US college. By 2007, that percentage had dropped to 46 percent, according to Japanese government figures. The proportion of those heading for Chinese universities, meanwhile, climbed from 9 percent to 24 percent – more than 18,000 students.
---