Clinton condemns North Korea as South Korea weighs response
North Korea and South Korea have been careful to avoid explicit calls for war, but both nations have implied that military action is possible if their diplomatic standoff continues.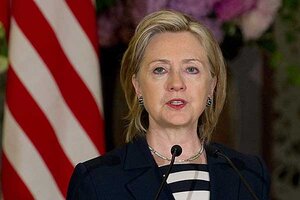 Saul Loeb/AP
South Korea and North Korea escalated their war of words Friday in an atmosphere of mounting tension that raised the distinct possibility of more battles in the Yellow, or West Sea but no reprisals for North Korea's torpedoing the Navy ship Cheonan in March.
South Korean leaders appeared ambivalent about how tough to talk or act, or what to do militarily amid vague threats that left analysts wondering if they had settled on a clear plan of action.
No sooner had President Lee Myung-bak told his top aides "we must be highly prudent" than his defense minister was vowing to "make sure that North Korea pays for its dastardly deeds."
Kim Tae-yong, talking to foreign reporters at the Defense Ministry, stopped short of a military threat but came up with a fighting analogy that left scope for an armed response.
"A boxer in a ring would only hit with gloves," he said, suggesting North Korea had broken the rules for the match.
"There must be limits to its hostility and methods," said Mr. Kim. "For such acts, this government will definitely make North Korea pay."
Counting on supportive words from visiting Clinton
But just how was the question as the government warmed up for diplomatic overtures, including pressure to get the United Nations Security Council both to condemn North Korea for torpedoing the Cheonan, killing 46 of its 104 crew members, and to strengthen sanctions.
---