How will North Korea respond to South Korea's threats?
A third nuclear test and naval confrontations in the Yellow Sea are likely, say analysts, in response to South Korean President Lee Myung-bak's announcement Monday of retaliatory measures against North Korea for torpedoing the navy ship Cheonan.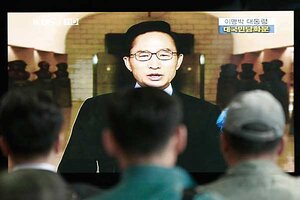 Ahn Young-joon/AP
South Korea President Lee Myung-bak issued a strongly worded declaration Monday of retaliatory measures against North Korea for torpedoing the navy ship Cheonan. The question now: How will North Korea respond?
Analysts predict fresh North Korean military challenges in the waters around South Korea – and more rounds of naval warfare. Some are concerned that North Korea may conduct a third nuclear weapons test or test-fire more missiles. In any case, threats are flying on the Korean Peninsula in what may be a new period of danger – and diplomacy.
North Korea has already threatened to fire on South Korean loudspeakers if they resume propaganda broadcasts from their side of the Demilitarized Zone (DMZ) that has divided the Korean peninsula since the end of the Korean War.
Mr. Lee, vowing to prevent any repetition of North Korean "brutality," suspended North-South trade and an agreement that gave North Korean vessels the right to go through South Korean waters around the southern end of the peninsula. Those measures, plus a diplomatic campaign to get the UN Security Council to impose sanctions, raised the specter of a wide range of North Korean responses.
North 'will test' South
"A typical menu would include another nuclear test and missile test-firing," says Kim Sung-han, professor of international relations at Korea University. But he predicts that North Korea first "will test the will of South Korea by sending vessels into South Korean waters."
---
Follow Stories Like This
Get the Monitor stories you care about delivered to your inbox.