Thailand's red shirts and yellow shirts battle it out on Facebook
Facebook and other social networking sites are popular tools for Thailand's political yellow shirts, and to a lesser extent their red shirt opponents, in the Thai season of political turmoil. But the sites are amplifying social divisions, say some Thais.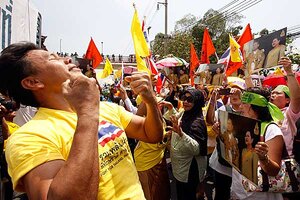 Eric Gaillard/Reuters
Social networking sites, such as Facebook, have become a battleground in Thailand, providing a platform for the spread of news and information as the country still reels from two months of political violence in Bangkok that has left at least 88 people dead.
In the West, it's not unusual for speech online to be more vitriolic than in person or for like-minded political groups to gather and complain on websites. But this forum for communication has grown dramatically in recent months here, and arguably, the current context in Thailand is more volatile than in most nations; the result can be real violence.
In Thailand, the online politicking has fueled hate speech, rumor mongering, and vigilante campaigns by ultra-conservatives to "out" opponents and harass them in real life. At least one such Facebook group has been shut down after complaints to administrators.
The use of Facebook to muster political support and hound opponents has sown divisions even among close friends, with some Thais being ostracized by their circle for refusing to join a friend's Facebook petition. Peer pressure and intolerance can be greater on Facebook than in real life, say Thai users. In general, Thais put great stock in politeness and in avoiding heated arguments. But these norms fall away on social networking sites.
"It's an even stronger division than face to face. In real life, we have manners. When we get together we know we should behave," says Wit Pimkanchanapong, an artist in Bangkok.
---