North Korea moves to cut remaining ties with South
Angered by charges that it torpedoed the Cheonan Navy ship, North Korea appears ready to shut down the Kaesong Economic Complex, the last point of contact between the two Koreas. Kaesong hosts some 100 South Korean factories and more than 40,000 North Korean workers.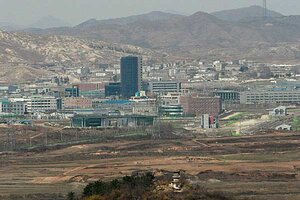 Ahn Young-joon/AP/File
North Korea appears on the verge of shutting down the last remaining point of contact between the two Koreas – the Kaesong Economic Complex, long seen as a beacon of hope for North Korea's dilapidated economy and a symbol of the potential for North-South cooperation.
That's the implication of a report late Tuesday by Pyongyang's Korean Central News Agency that the North is expelling all South Koreans from the complex, where more than 100 South Korean factories turn out light industrial products. The South Koreans are technicians and managers responsible for directing more than 40,000 North Korean workers on assembly lines.
The North Korean report said relations with South Korea would be "severed" and "all communications links between the north and south will be cut off," ending the dream of North-South cooperation at Kaesong.
'Smear campaign'
North Korea accused the South of waging a "smear campaign" – a reference to South Korea's charge that a North Korean submarine fired the torpedo that sunk the Cheonan, a Korean Navy corvette, in March, killing 46 sailors. South Korea is calling for strengthened UN sanctions against North Korea based on a lengthy investigation by a team that included 10 foreign experts.
---