Diplomatic stance trumps tough talk on North Korea
Secretary of State Hillary Clinton, on a brief visit to South Korea, agreed with South Korean President Lee Myung-bak that 'strategic patience' should guide relations in wake of North Korean sinking of a South Korean Navy ship in March.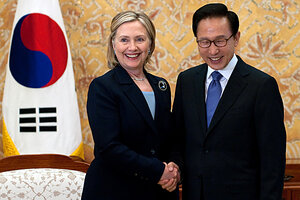 Saul Loeb/AP
Secretary of State Hillary Clinton appeared in full accord with her South Korean hosts during a four-hour stopoff Wednesday in which the language was tough – but diplomacy rather than a military response toward the North was clearly taking top priority.
At a press conference, Mrs. Clinton called on North Korea "to halt its provocations and its policy of threats and belligerence," as seen in the in the sinking of the Cheonan, the South Korean Navy corvette, that resulted in the death of 46 sailors.
But when it came to the bottom-line issue of how to achieve these goals, according to a spokesman for South Korea's President Lee Myung-bak, Clinton and Mr. Lee agreed that "strategic patience" was the way to go.
"Time is on our side," the spokesman was quoted by South Korean media as saying after the meeting. "We shouldn't go for an impromptu response to each development but take a longer-term perspective."
The ultimate goal appears to be avoiding another clash that could turn the standoff into a war.
"Things are not going to escalate beyond a certain level," says Lee Jong-min, dean of the Graduate School of International Studies at Yonsei University. "The objective is to make sure it does not go beyond a certain point."
---
Follow Stories Like This
Get the Monitor stories you care about delivered to your inbox.