Populist Naoto Kan promises to 'rebuild' Japan as new PM
The first PM in more than a decade not to hail from a political dynasty, the populist Naoto Kan hopes to boost his party's standing ahead of July elections.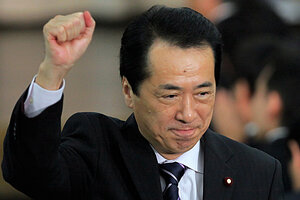 Itsuo Inouye/AP
Japan's new prime minister, Naoto Kan, launched his premiership last week with a promise to "rebuild" his country and restore his party's fortunes after a week of humiliation.
The former finance minister beat his rival, Shinji Tarutoko, in a June 4 vote among members of parliament belonging to the ruling Democratic Party of Japan [DPJ], just two days after Yukio Hatoyama resigned for his woeful handling of the relocation of a US airbase in Okinawa.
Mr. Kan, Japan's sixth prime minister in four years, is the first leader in 14 years not to hail from a political dynasty. An outspoken politician, he is targeting issues from Japan's public debt – the highest in the industrialized world – to regaining public trust in the tarnished political class to spurring growth in a fast-graying society.
Reassuring the US
Kan has also moved quickly to reassure the United States that it remained the "cornerstone" of Japan's diplomacy and that he will stand by the recent agreement to relocate Futenma Marine base within the island of Okinawa. But he added that he would also strive to realize his predecessor's grand vision of an East Asian community modeled on the European Union.
---