North Korea: New clues about who will replace Kim Jong-il
In a rare meeting of parliament Monday, North Korea's leader Kim Jong-il increased the political influence of his brother-in law. The move is seen as supporting the leader's heir apparent – his youngest son – and curbing any power plays within the military.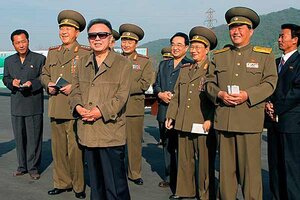 KCNA/Reuters
 North Korean leader Kim Jong-il has elevated his brother-in-law to the post just beneath him on the National Defense Commission in a power play seen as solidifying the succession to Mr. Kim's youngest son.
The North Korean leader, who rules as chairman of the defense commission, named his brother-in-law, Jang Song-thaek, as commission vice chairman at an emergency session of the Supreme People's Assembly, a rubber-stamp parliament that was not expected to meet again until next year.
A sign of the importance of the appointment was that Kim Jong-il appeared at the assembly session – but photos of the event offered no new clues about his health. There have been a series of reports that the North Korean leader had a stroke two years ago – all of which the North has denied.
Mr. Jang, who was already a member of the commission and also head of the administrative department of the ruling Workers' Party, has long been regarded as the second most powerful figure in the North Korea's ruling structure, His appointment, however, is likely to serve as a strong deterrent to scheming military leaders who might have different ideas.
 "From the beginning he was the second man," says Kim Tae-woo, a senior analyst with the Korea Institute for Defense Analyses in South Korea. "His appointment is all related to the power succession."
---