Japan's Naoto Kan promises fresh start with new cabinet
Japan's new Prime Minister Naoto Kan unveiled a cabinet Tuesday of six new members and 11 from the Hatoyama administration. Polls show 63 percent of Japanese have high hopes for Kan's administration.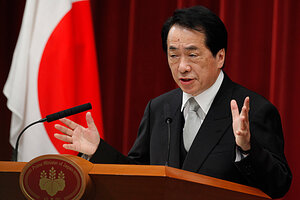 Shizuo Kambayashi/AP
Japan's new Prime Minister Naoto Kan promised a fresh start Tuesday for the ruling Democratic party of Japan (DPJ) as he named a cabinet tasked with reviving the economy and restoring public faith in politicians ahead of upper house elections.
The lineup of the new cabinet, which includes 11 of 17 ministers who served Mr. Kan's predecessor, Yukio Hatoyama, is also being seen as a snub to Ichiro Ozawa, the party's "shadow shogun," whose implication in funding scandals has tarnished the party's image.
Critics of Ozawa occupy key posts, and in recent days the former DPJ secretary-general has been conspicuous by his absence. He and Mr. Hatoyama resigned last week after the latter conceded he had badly mishandled the relocation of a key US military base on Okinawa island and failed to stamp out sleaze in the party.
Kan's appointment has received a positive response from voters: A Mainichi Shimbun poll found 63 percent of respondents had high hopes for the new administration, compared with recent support ratings of under 20 percent for Hatoyama.
Diving into debt woes
---