South Korean whistleblower Kim Yong-chul breaks silence on Samsung
South Korean whistleblower Kim Yong-chul, who has written a book about his efforts to expose alleged corruption and greed at Samsung, faces censure and isolation.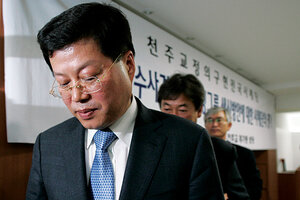 Jo Yong-Hak/Reuters
The career of Kim Yong-chul began imploding six years ago when he quit as chief lawyer for the Samsung Group, by far South Korea's largest chaebol, or conglomerate, in rage and frustration over the corporate corruption and greed he says he saw around him.
Once famed as a prosecutor who had won the conviction of a former president, Gen. Chun Doo-hwan, on corruption charges, he crusaded against his onetime employers – and nearly brought down Samsung's top boss and Korea's richest man, Lee Kun-hee.
Nearly.
Mr. Lee, convicted for tax evasion and placed on probation, got a full pardon in De­cember from Korea's conservative President Lee Myung-bak, a onetime top executive of the Hyun­dai group.
Now Lee rides high again, restored as chairman of Samsung Electronics, the centerpiece of the group, which employs 170,000 people of the 270,000 in an empire that accounts for one-fifth of Korea's gross domestic product. And his son, Lee Jae-yong, banished in the scandal to a post in China, now is Samsung Electronics' chief operating officer, on course to take over.
---