Julia Gillard takes helm in Australia after Kevin Rudd ouster
Julia Gillard became Australia's first female prime minister Thursday after the once unassailable Kevin Rudd lost favor over mining disputes and his shelving of climate change initiatives.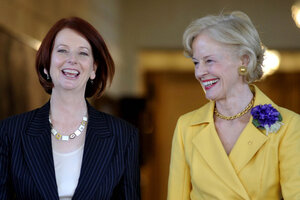 Alan Porritt/Pool/REUTERS
Until a few months ago, Kevin Rudd was riding high as Australia's most popular prime minister in three decades. But Thursday he fell victim to his government's plunging poll ratings, and was ousted by his deputy, Julia Gillard, in the wake of policy backflips that threatened Labor's fortunes at upcoming elections.
Rejected by his own party in favor of Ms. Gillard, who has been sworn in as the country's first female prime minister, the once unassailable Mr. Rudd had no choice but to step aside. He had been warned by Labor power brokers and key trade unions that he no longer had their support.
Choking back tears, an uncharacteristically emotional Rudd told a media conference in Canberra: "I have given it my absolute best; I have given it my all."
His election in 2007 ended 11 years of Conservative government by John Howard, and Rudd enjoyed a remarkable political honeymoon. As recently as the start of this year, Labor still appeared invincible.
But in recent months the government's ratings have slumped, with voters disillusioned, in particular, by its shelving of a carbon-trading scheme. Recent polls have put Labor behind or barely neck and neck with the Conservative opposition coalition.
---