Burma election: Are activists the new Third Force in politics?
The Burma election this year is widely expected to reinforce the junta's power. But some nonprofits support the vote, and dozens of political parties are taking part, in hopes of chipping away at military rule.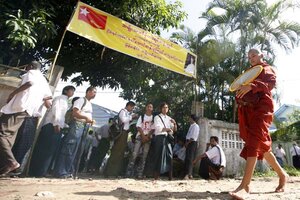 Soe Zeya Tun/Reuters
Inside a humid room, rows of neatly dressed Burmese students are quizzing their guest lecturer. The class is Social Entrepreneurship and the topic is the European Union, where the lecturer comes from.
Why is Switzerland not in the EU? Why is marijuana legal in some countries but not in others? "Good questions," the teacher nods.
The class is run by Myanmar Egress, a nonprofit organization that has become a one-stop shop for civil society activism in military-ruled Burma (Myanmar). Founded in 2006 by academics and businesspeople, it offers paid courses from Development Economics to Public Speaking Skills to Team Building. It also has a public policy research arm and conducts humanitarian relief assessments, while quietly extending into political education.
But the group also takes a conciliatory stance toward the unpopular junta, raising hackles among some democracy activists. It allegedly has close ties to the regime, and supports the controversial elections set for later this year, part of a seven-stage road map toward a "discipline-flourishing democracy."
Critics say these elections, the first to be held in 20 years, will simply perpetuate military rule behind a civilian facade. The US has warned that voting is unlikely to be free and fair.
---