'Little Obama': Indonesia premieres movie despite Obama's absence
'Little Obama,' the movie, was originally scheduled to open during a presidential visit to Indonesia that was later canceled. In the film, a young Barack Obama battles bullies, confronts his first crush, and shows signs of a now-familiar confidence.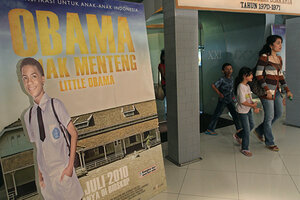 Tatan Syuflana/AP
It was a premiere fit for a president – attended by ambassadors, movie stars, and media, though minus the Indonesian meatballs little Barack Obama once enjoyed. And while the film, "Obama Anak Menteng," or Little Obama, is unlikely to become a cult classic, director Damien Demantra said he hopes it teaches children to aim higher.
Produced in just 25 days, the film, which was screened at the XXI Theater in Jakarta, tells the story of Mr. Obama's childhood in the city. In it he battles bullies, confronts his first crush, and shows signs of the confidence and bravado for which he is known.

Mr. Demantra rushed the film's production to coincide with Obama's June 17 visit to Jakarta. And like many here was sorely disappointed when the president canceled his trip – the third no-show in a year.

But what really matters, says Demantra, is the message the film sends. "The main purpose is to promote pluralism and hope. Obama is an icon of pluralism."
Project grew out of a dinner conversation
---
Follow Stories Like This
Get the Monitor stories you care about delivered to your inbox.