Laos turns to hydropower to be 'Asia's battery'
The Laos government is banking on hydropower - with plans to build 55 dams - to sell electricity to its Asian neighbors. But critics say hydropower comes at the cost of more displaced farmers and altered rivers.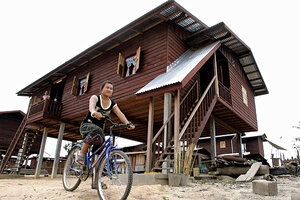 Sukree Sukplang/Reuters/File
Scarred by war and plagued by poverty, Laos now dreams of becoming a regional energy superpower. Its communist government plans to capitalize on 55 hydroelectric dams built on rivers that crisscross this sliver of land between Thailand and Vietnam.
"If all sources of energy can be developed, Laos can become the battery of Southeast Asia," says Industry and Commerce Minister Nam Viyaketh during a recent interview in the capital. "We can sell our energy to our neighbors. Laos can be rich."
Perhaps nowhere is Mr. Nam's ambitious hydropower plan more explicit than in the massive Nam Theun 2 (NT2) hydroelectric plant, which began operating April 17 and is expected to bring in $2 billion in government revenue over the next 25 years by selling 95 percent of its electricity to Thailand.
The $1.45 billion, 1,070-megawatt (MW) dam was bankrolled in part by international investors including Électricité de France. French President Nicolas Sarkozy is expected to attend the official inauguration on Nov. 2, along with the presidents of the World Bank and Asian Development Bank.
---