What stigma? Burma (Myanmar) draws energy-hungry neighbors
Activists who pressured Western companies to boycott Burma (Myanmar) are now preparing to battle Asian firms eager for Burma's oil and gas.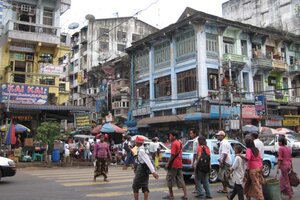 Sarah Birke
Six months ago, a construction crew showed up in this sleepy Burmese backwater. Villagers watched the crew put down a black pipeline under their rice fields, on its way north to power-hungry Rangoon (Yangon), the old capital.
The pipeline opened June 12 to acclaim in Burma's largest city, where households are lucky to get six hours of electricity a day. For villagers living on the pipeline route, the benefits are less clear. At a local store, the only power comes from an old car battery hooked up to a single bulb. Nobody has electricity at home. "The gas is not for us," says a farmer.
But the villagers were lucky in one respect: Nobody had to move off their land to make way for the pipeline.
Elsewhere in military-ruled Burma (Myanmar), authorities have seized land for energy projects that are increasingly attractive to Asian oil companies unhindered by recent Western sanctions. When the wells are turned on and the energy is exported to richer countries, local communities are often left landless and in the dark.
The pipeline to Rangoon will give more Burmese citizens access to a gas field operated by France-based Total and US-based Chevron that, since 1998, had already been supplying 30 percent of Thailand's electricity supply via a separate pipeline. Not only has the bulk of gas been exported, but Total and Chevron have been dogged by allegations of human rights abuses over the pipeline's $1.3 billion construction. In 2005, the companies paid out-of-court settlements to plaintiffs in separate lawsuits alleging complicity in the abuses.
---