What Burma (Myanmar) needs to fill its rice bowl
In Burma (Myanmar), once the world's leading rice exporter, indebted farmers are losing their land or cannot afford quality seeds. More aid and credit are available these days, but not nearly enough, say development experts.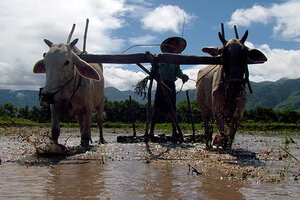 Khin Maung Win/AP
Under a stormy sky, the emerald fields of Burma's rice bowl seem to glow with vitality. Farmers stoop to replant seedlings in waterlogged fields, part of the annual cycle of rural life in the Irrawaddy Delta.
But the vital signs of Burma's rice industry are less healthy. Declining yields, indebted farms, and falling incomes have sown desperation among farmers and stunted economic growth in the countryside, where 70 percent of people live and work. The misery was compounded by a May 2008 cyclone that killed more than 130,000 people and laid waste to the delta.
The cyclone opened the door to more humanitarian aid for Burma (Myanmar), the poorest country in Southeast Asia. It also led to a rare debate between its military rulers and foreign donors over how to tackle poverty among farmers and fishermen left at the mercy of natural disasters.
The result has been tentative efforts to reform the dismal rice sector and channel more assistance to rural communities. Development experts say much more outside help is needed, including commercial bank loans, to boost productivity and reverse a longtime trend of rice farmers falling into debt and losing their land.
The end goal, say these experts and independent economists, should be a vibrant rice industry that can underpin broader economic growth, as it has in Thailand and Vietnam, the world's largest rice exporters, a title that Burma last held in the 1930s. By contrast, few buyers snap up Burmese rice, which is grown from low-quality seeds and milled in rusted factories.
---