Whale wars: Japanese court lets Sea Shepherd activist go home
A court in Japan gave Sea Shepherd activist Peter Bethune a suspended two-year jail term Wednesday. During last winter's annual 'whale wars,' he sneaked onto a whaling ship to try to arrest its captain for sinking the Ady Gil speedboat.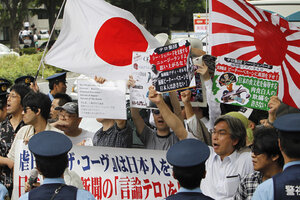 Shizuo Kambayashi/AP Photo
A court in Japan has given an antiwhaling activist a suspended two-year prison term after finding him guilty of disrupting the country's whaling fleet and assaulting a crew member during clashes in the Antarctic earlier this year.
The Tokyo district court also found Peter Bethune, a former member of the Sea Shepherd conservation group, guilty of trespassing, vandalism, and possession of a knife after he boarded the Shonan Maru 2 security vessel in February. Mr. Bethune, who had contested the assault charge, had faced up to 15 years in prison.
His supporters called the court's decision a response to mounting international condemnation of Japan's research whaling program and fears that the activist's imprisonment could become a rallying point for more protests.
Bethune will be deported to his native New Zealand on Friday, his lawyers said.
Speaking after the verdict, Mr. Bethune said, "I am very relieved and thankful at the decision from the Japanese court and immensely grateful to my legal team here in Japan.
"I am truly sorry for all the trouble and worry this has caused my family and am desperate to get back home to see them. I also want to thank all the supporters worldwide who have been sending messages and signing petitions, and the media, who have been keeping this story in the public eye."
---