Australia plan to divert asylum seekers gets cool reception
Australia's new leader Julia Gillard met resistance to her first major policy initiative: diverting asylum seekers to East Timor. The tiny country's prime minister says he was not consulted by Ms. Gillard.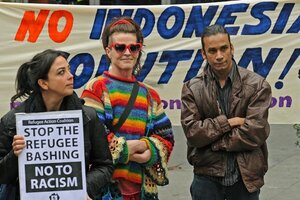 Greg Wood/AFP Photo/Newscom
An Australian proposal to divert asylum seekers who arrive by sea to neighboring East Timor for processing has run into resistance and cut short a political honeymoon for Australia's new leader.
Prime Minister Julia Gillard announced Tuesday that she would establish a regional hub for processing refugees and other immigrants on East Timor, an impoverished half-island nation. Refugees from Sri Lanka, Afghanistan, and other troubled countries regularly try to reach Australia by boat so they can claim political asylum.
The proposal was the first major policy initiative from Ms. Gillard, who replaced Kevin Rudd two weeks ago as leader of the governing Labor Party.
But Timorese politicians have pushed back against the idea. Some have argued that their territory isn't suitable for such a facility and asked why Gillard raised it with President Jose Ramos-Horta, not the country's prime minister. A spokesman for Mr. Ramos-Horta said no formal proposal had been submitted and that the government was still in the dark on the details.
Cool response from neighbors
Compounding the confusion, Indonesia said it hadn't been informed in advance of Gillard's announcement. Most asylum seekers use Indonesia as a transit country to try to reach Australia by boat and the two countries have been working together to deter new arrivals, catch people traffickers who profit from the trade and find a solution for refugees who get stuck in Indonesia.
---