Why South Korea's prime minister appears poised to resign
South Korean Prime Minister Chung Un-chan's resignation would be a blow to President Lee's government. Chung's efforts to revise a partial government relocation initiative was rejected by parliament last week.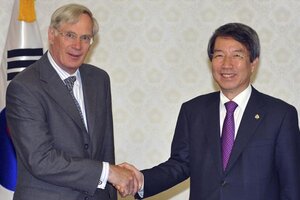 Ahn Jeong-Won/Yonhap/Reuters
South Korean Prime Minister Chung Un-chan appears poised to resign, in what would deal a humbling blow to the government of Lee Myung-bak, who picked Mr. Chung less than a year ago to lead a major policy initiative.

The parliament's rejection last week of that drive – which sought to revise the planned relocation of several government offices to a new city – means Mr. Chung has become a political burden to President Lee, analysts say.

Local media reported earlier this week that Mr. Chung expressed his plans to resign in a Saturday meeting with the president. On Wednesday, the Yonhap news agency quoted a source at the presidential office as saying Lee was ready to accept that offer.

Kim Chang-young, a spokesman for the prime minister's office, would not comment on the report.
More political theater
---